Guest Post by Bethany Hegorhorst
This question has irked me for so long! Why do banks tell people they are qualified up to a certain purchase price and that's it? No loan programs work like that... they all have "debt to income ratio" requirements which exact monthly payments fit into, and then those exact maximum monthly payments can fit into several price ranges! Also, it depends program by program! This is the biggest thing I can tell about how we are different -- we go the extra step to show them the maximum payments they can qualify for with EACH loan program, along with tips for how to expand that (like paying off specific debt items) to qualify for higher if needed, and build customized mortgage calculators to help show.
For example. John Deere makes $8,000 a month, has excellent credit, a car loan of $350 a month, a truck loan of $500 per month, student loans of $125 a month, and three credit cards with minimum payments of $75 total.
Conventional is fixed at a maximum 45% debt to income ratio including all debts, which means John could qualify for $2,550 total debt per month additional.
FHA I have gone up to 54.9% before ... that would be a maximum monthly payment of $3,342 a month.
If John is married and has three kids so five in the household, this income would still work for USDA 0 down, and that debt to income is 41%, which means a monthly payment of $2,230 per month. (I have gone up to 44% with excellent credit too)
(And if he is a Veteran, I have had approvals at 60% Debt To Income!)
We would show John Deere a custom mortgage calculator showing all of these different maximum payments with mortgage insurance and functions built in depending on their down payment goals at this point... but also point out that if they need to go a little higher on their payment, they would need to use some of their down payment money on paying off debts instead, like wiping out the three credit cards to free up an additional $75 per month on their qualifying!
Let's pretend the Deere family has up to 10% down, but would like to see options below that as well.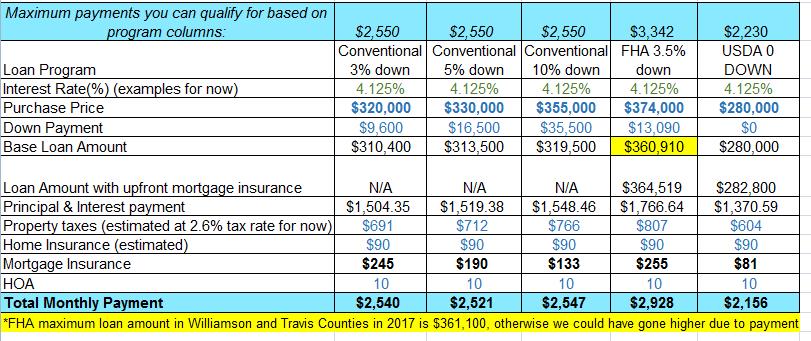 Based on this, I would tell John Deere he could potentially qualify around the $350k range with Conventional, or higher with FHA, or $280k with USDA, BUT that it depends on actual property taxes and HOA home by home, so to expand the search larger than that, and plug the actual numbers for taxes and HOA in the spreadsheet to confirm if it works. Residential homes have much lower HOA than condos and townhomes, and existing homes generally have lower assessed values with the homestead exemption then a New Construction. This is why we are happy to doublecheck numbers for your buyers before they fall in love with a home, in case they fall in love with something that does not work. We also don't want you wasting your time driving them to a home they won't qualify for. We also give them a copy of their custom mortgage calculator in excel in case they want to do numbers themselves! (My engineers LOVE this!)
Another example. Someone gives you a preapproval letter from a bank stating they are qualified up to $320,000. What does that mean, really? What payment are they using for the $320,000? What program? What if it's a $290,000 condo downtown Austin but with $400 HOA? May not work. What if a home price is $340,000 but it's in Liberty Hill with 2.15% tax rate and no HOA? That SHOULD work.
Buyers qualify for maximum Payments in their debt to income ratios, and an experienced loan officer will take the time to break it all out, explain it right, and help structure it differently to fit the goals if needed. If we go back to that $290,000 condo downtown with the $400 HOA per month, it may not work "as is", but it would work if they put less down payment and instead paid off certain debt. I've done this for many buyers as well, and I now call it My EQUITY SHIFT, and more info on that training will come soon :)
Ben and I have been doing loans since 2003, and before that I worked on a stock exchange desk and I also have extensive training in Strategic Equity Management. We aren't just going to get your buyers prequalified, we are going to help them achieve their overall financial goals, whether that's today or 3 years from now! We are available on the phone, email, in person, or online at www.mytexashomelender.com.
What do you think of John Deere's new home?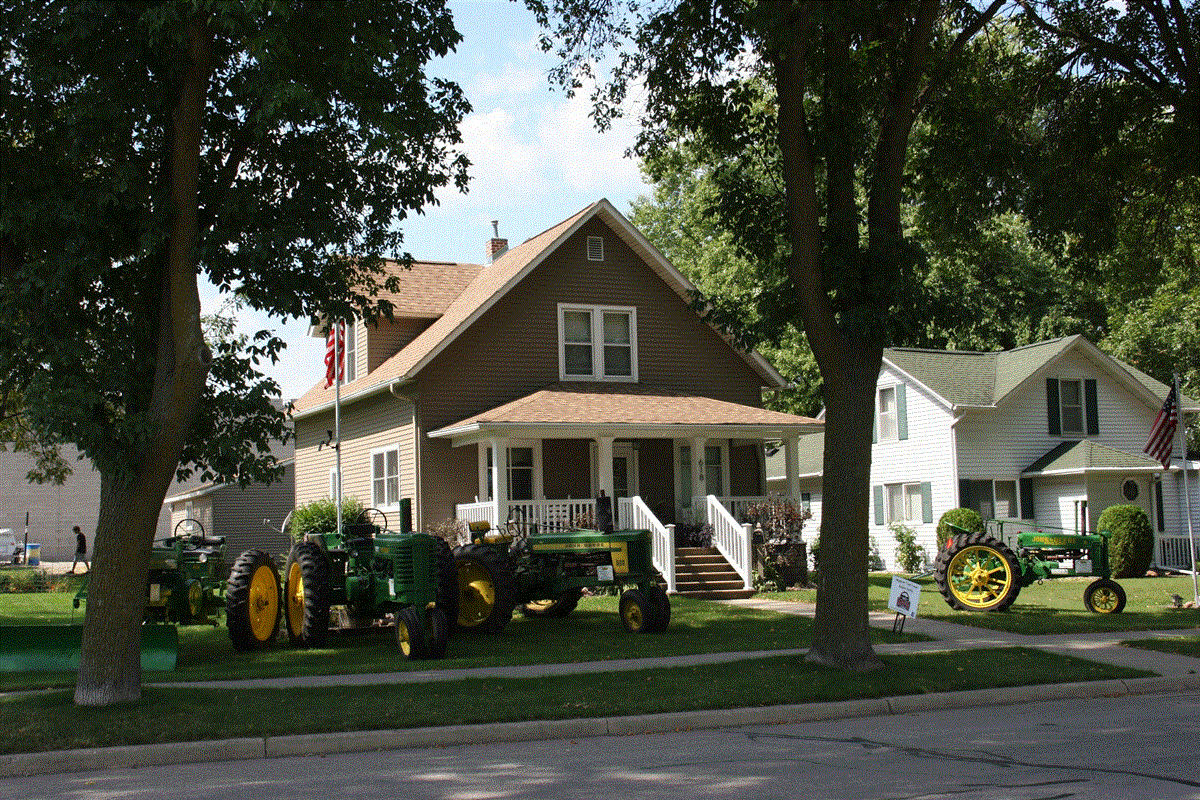 Bethany Hegerhorst
512.508.9538
bethany@midamericamortgage.com
12001 W Parmer Lane, #250, Cedar Park TX 78613


NMLS #117973
Leave a Comment